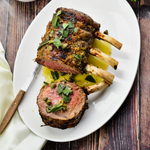 Servings:4
Ingredients
1 Veal rack from Hudson Meats
1/4 cup garlic olive oil from Hudson Meats
4-5 cloves minced garlic
4 sage leaves finely chopped
2 tsp salt
1 tbsp pepper
Browned butter sage sauce
100 gm butter
1 lemon (juice and rind)
6-8 sage leaves
3 tbsp capers (rinsed and drained)
Salt and ground pepper to taste
Method
Bring veal rack to room temperature and pat dry with paper towels.
Pre-heat oven to 190C.
Mix garlic olive oil, garlic, sage leaves, salt and pepper in a bowl. Pour over veal rack and
massage veal rack with the marinade.
Place veal on a baking rack in a baking dish. Roast uncovered for 45 minutes. Cover with aluminium foil, baste and roast for additional 45 minutes.
Transfer veal rack to a board and allow it to rest for 10 minutes.
Melt butter in a saucepan and when it begins to foam, add sage, capers and lemon juice with lemon rind. Cook for 3-4 minutes.
Serve carved veal with browned butter sauce.
Recipe by Sarah Ahmed : @nourish.glow.repeat