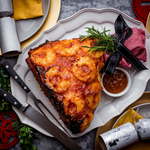 A classic pineapple jewelled ham gets a tropical upgrade with a spiced pineapple, mango and apricot jam glaze.
 Both the rind and hock can be reserved in the freezer for pea and ham soup in winter.
Prep Time 20 mins
Cook Time 1 hour
INGREDIENTS
5-4.5kg Black Berkshire Ham Shank
2 x 440g cans sliced pineapple in juice
½ jar Agrimontana Apricot Jam
Fresh rosemary, to decorate, optional
METHOD
Preheat oven to 180°C. Remove ham from the fridge.
Combine the mango flesh, 3 pineapple rings and jam in a food processor or chopping attachment of a stick blender, and process until smooth. Transfer to a small saucepan, add sugar and cinnamon, mix. Bring to a simmer, then reduce heat to low for 10 minutes, stirring often.
Cut the ham skin around the hock. Remove the skin from the ham, making sure to keep as much of the fat as possible attached to the meat – peel or fillet off gently with a sharp knife. Score the ham in a diamond pattern through the fat all the way to the meat. Wrap the hock bone in foil to stop it from burning.
Brush the ham with some of the glaze. Using 2-3 skewers each, secure remaining pineapple rings around the ham. Brush pineapples with a little glaze.  
Bake ham for around 1 hour, brushing with the glaze every 15 minutes until the glaze is caramelised and the ham is warmed through.
To serve, transfer ham to a serving platter. Gently remove the toothpicks from the pineapple rings. Wrap hock, still in foil, in a napkin and tie with a ribbon. If you like push a small bunch of fresh rosemary in for decoration.
Transfer any remaining glaze to a serving ramekin and serve alongside the ham.
Tip: Store leftover ham on the bone in a moist ham bag in the fridge for up to 1 week. Sliced ham can also be portioned out, placed in ziplock bags and frozen. If you don't fancy the fat on the cold cuts, trim it off and dice it the freeze and render in a pan for frying eggs in or making delicious scrambled eggs and omelettes.
  Recipe by @wholesomecook