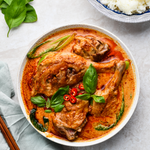 Serving size:4
Ingredients
4 duck Marylands from Hudson Meats
Homemade red curry paste (instructions below) or store bought
5 kaffir leaves
1 stalk lemongrass (left over top parts from red curry paste)
400ml coconut milk (can)
150ml chicken stock
2 tbsp fish sauce
1 tbsp brown sugar
Squeeze of lime juice
1 bunch choy sum
1⁄4 cup fresh basil
Red curry paste
2 finely chopped shallots
2 stalk lemongrass (bottom white part only)
2 tbsp chopped coriander root
2-3 thai red chilies
4 cloves garlic
1 inch ginger or galangal
Juice and zest from 1 lime
1⁄4 cup tomato paste
1 tsp tamarind paste
2 tablespoons fish sauce
1 teaspoon shrimp paste
1 tsp of coriander powder
1 tsp cumin powder
1 tbsp brown sugar
1-2 tsp thai chili powder (optional)
Method
To make the red curry paste, blitz all ingredients in a food processor and set aside.

Score the skin of each duck maryland and season with salt and pepper.

Place duck in a deep non stick pan skin side down and cook over low heat for 10-12 minutes. Increase the heat to medium high and fry both sides until skin is crisp (5-7 minutes on each side).

Remove duck from the pan and set aside. Remove any duck fat rendered.

Add coconut oil to a pan on medium heat and add red curry paste. Fry for 3-4 minutes until the paste is fragrant.  

Add kaffir lime leaves, lemon grass stalks, coconut milk, chicken stock, fish sauce and sugar. Bring to a gentle simmer and lower the heat. Add duck into the pan. Cover and cook for 1 hour on low heat.

Add choy sum and cook until wilted (3 minutes). Squeeze lime juice and add fresh basil.

Serve with steamed jasmine rice.
Recipe by Sarah Ahmed : @nourish.glow.repeat