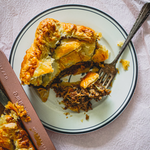 The secret to a tender brisket is in cooking it gently in liquid and to allow the fat to render through the meat.
.
Serves 6 Prep 20mins Cook 4.5 hrs
.
INGREDIENTS
750g Hudson Meats grass-fed beef brisket
2 tbsp olive oil
2 large onions, peeled and quartered
2 x 250ml Uundivided Food Co Beef Bone Broth
1 tbsp liquid smoke, optional
FOR THE PIE
2 tbsp olive oil
150g sliced button mushrooms
1 @gourmetgrannys pepper sauce
200ml fresh cream
2 tbsp plain flour
2 tbsp cold water
2 packs @caremepastry puff pastry
1 egg
.
METHOD
Preheat oven to 150C. Pat dry brisket with paper towel. Heat oil in a cast iron pot over medium heat. Cook brisket for 3mins on each side to brown. Add onions, bone broth and liquid smoke, if using. Cover with a lid and transfer to the second lowest shelf of the oven. Cook for 4 hours, basting with the liquid every hour. Once falling apart, remove the meat from the liquid and wrap in aluminium foil. Allow to cool down before using or allow rest in the fridge overnight. Mash onions and save for the sauce.
Preheat oven to 220C. Thaw out puff pastry for 30mins. Shred the meat. Heat oil in a large pan over medium heat. Cook mushrooms stirring for 5mins. Mix pepper sauce powder and cream in a jug. In a small bowl mix flour and water to a smooth paste. Remove mushrooms from heat, stir through the mashed onion, pepper sauce and flour mix.
Line a 27.cm x 17.5cm baking dish with baking paper. Unroll pastry sheet over the base and prick with a fork. Spread the brisket filling over the base. Cut the other pastry in half and cover the filling, wrap the overhanging pastry over the top. Score in a diamond pattern and baste with whisked egg. Bake for 15mins at 220C then at 180C for another 10mins.
Remove from oven and serve.
Recipe and image @wholesomecook