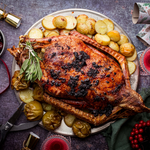 This cherry and brandy-glazed Saskia Beer goose, stuffed with a fragrant herbed stuffing and accompanied by sweet roasted apples, is a luxurious centerpiece that embodies the spirit of the holiday season.
Servings 6-8
Prep Time 20 mins
Cook Time 2.5 hrs
INGREDIENTS
1 whole Saskia Beer goose (about 4.5kg)
1 tub Hudson At Home Pickled Cherries
50ml brandy
1 heaped tablespoon brown sugar
Salt and freshly ground black pepper
STUFFING
250g panko breadcrumbs
1 red onion
30 grams butter
Small handful fresh sage
Small handful fresh rosemary
Small handful fresh thyme
2 eggs
APPLES & POTATOES
8 small Granny Smith apples
METHOD
Remove goose from fridge about an hour before cooking.
Place breadcrumbs in a large bowl. Peel and finely chop onion. Melt butter in a frying pan over medium heat, add onion and cook, stirring occasionally until tender and translucent, about 6 minutes. Meanwhile finely chop herbs. Add herbs and cooked onion to the bowl and mix well. Crack in 2 eggs and working with your hands, mix until the stuffing is coming together.
Lift the skin covering the cavity and place all stuffing inside the cavity. Tie drumsticks together and secure the cavity with a couple of toothpicks. Turn over and tuck wings under goose; tie with string. Prick skin well with a fork. Season with salt and pepper. Place goose breast side up on a rack in a roasting pan.
Bake, uncovered, at 180°C for 2 hours. Cover loosely with foil if goose browns too quickly. Meanwhile, slice the potatoes and make a cross cut in the tops of the apples.
Remove pan from oven, remove the rack with the goose and carefully drain fat from pan as it accumulates (reserve in a jar for roasting potatoes in winter, store in the fridge), leaving about a tablespoon of the fat in the pan. Add sliced potatoes to the bottom of the pan, stir through the fat and season with salt. Place rack with goose over the top and place apples on the rack. Return to oven for 40 minutes.
Meanwhile, pit 15 pickled cherries and chop the flesh finely or process in a chopping attachment of a stick blender. Place in a small saucepan, along with 2 tablespoons of the pickled cherry juice, brown sugar and brandy.   Cook and stir over medium heat until heated through. Set aisde.
During the last 15 minutes of cooking, baste some of the glaze over the goose.
Once cooked, cover the goose loosely with foil and let stand for 15 minutes before transferring to a serving platter along with the potatoes and apples. Serve remaining cherries alongside the goose.
  Recipe by @wholesomecook