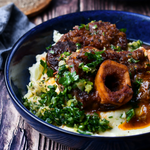 Veal Osso Buco
6 portions veal Osso Buco from Hudson Meats
3 cloves minced Bellingen organic garlic from Hudson Meats
1 jar Tomato sauce Hudson Meats
50g olives from Hudson Meats (remove seeds)
250ml stock (veal stock from Hudson Meats mixed with water)
200g whole peeled tomatoes
1 large white onion finely diced
1 celery stick finely diced
5 anchovies – finely chopped (optional)
2  tsp salt and pepper each
Gremolata
¼ cup finely chopped parsley
Method
Preheat oven to 160C.
Add flour to a plate. Season veal with 1 tsp salt and 1 tsp pepper. Dredge each portion of  veal in flour and shake off excess flour.
Heat 1 tbsp olive oil in a deep oven safe pot on medium high heat. Sear veal until golden brown on all sides (6-8 minutes on each side)
Remove veal Osso Buco from the pot and set aside.
Add ¼ cup olive oil to the pot. Then add in the onions, celery, garlic and anchovies and saute' until softened and fragrant.
Add olives, lemon zest, dried basil, bay leaves, thyme and mix. Pour in tomato sauce, whole peeled tomatoes, stock and wine.  Season with remaining salt and pepper. Stir well.
Add veal into the pot and bring to a simmer.
*If the pot is oven safe, cover with a lid and transfer to the oven to bake for 2 hours and 20 minutes.  If not oven safe, transfer veal with sauce to a baking tray and cover with aluminium foil and bake for 2 hours and 20 minutes.
For the gremolata, mix together all the ingredients in a bowl and set aside.
Serve Osso Buco with sauce over mashed potato or creamy polenta and add gremolata over the veal.       
Recipe by Sarah Ahmed : @nourish.glow.repeat