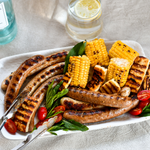 Ingredients
5 chicken sausages & 5 beef sausages from Hudson Meats
1 tbsp sriracha or sauce of choice
Handful fresh basil or mint
Dipping sauce
Method
Preheat grill to high and heat for 10 minutes
Add corn and cook, turning often, until charred all over (10-12 minutes). Brush butter and sprinkle salt straight after removing the corn from the grill.

Slice haloumi. Add honey, olive oil, lemon juice and chilli flakes to haloumi and set aside to marinate. Reduce the heat on the grill to medium. Place halloumi on the grill for a few minutes on each sid

e (2-3 minutes on each side).

Mix sriracha, oyster sauce, soy sauce and minced garlic in a bowl. Brush over sausages. Place sausages on the grill brushing with remaining glaze every few minutes. Cook for 15 minutes.
Mix all the ingredients for the dipping sauce and serve with sausages,corn, haloumi and basil.
Recipe by Sarah Ahmed : @nourish.glow.repeat