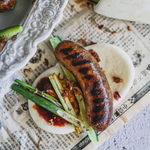 PEKIND DUCK SAUSAGE BAO BUNS 
You can cook the sausages on the barbecue or in a pan and then reheat in the oven the next day if you have leftovers. Bao buns are available from the freezer section of most Asian supermarkets. Keep them frozen or leave in the fridge to defrost before steaming. Crispy-fried shallots are optional but add a nice texture and flavour to the dish, available from most regular and Asian supermarkets. 
Makes 6 
Prep 10mins
Cook 15mins 
6 @
hudsonmeats
 Peking duck sausages
1 
packet 
frozen 
Bao
 Buns (see note above)
Crispy-fried shallots (see note above)
. 
Lightly spray a large frying pan or barbecue grill with olive oil spray. 

Heat over medium heat and add the sausages. Cook for 4 minutes on each side – I like to put a lid or 

bbq

 hood on so that they cook through quicker while staying juicy. Meanwhile, place a steaming basket over a pot of boiling water. Line with a steamer liner and add 6 

bao

 buns. Steam according to packet instructions, about 6 minutes from frozen. 


 

Slice cucumber lengthways into 6 batons. Slice spring onion into 3-inch pieces then across lengthways. 

 



To serve, carefully open the 

bao

 bun and spread a teaspoon of hoi sin sauce over the bottom half. Top with cucumber baton, spring onion and sausage. Sprinkle with crispy-fried shallots, if using.