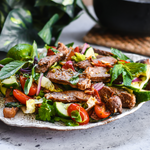 Marinade
200g x 2 sirloin steak from Hudson Meats
Dressing
1 inch ginger/galangal grated
1 bunch coriander including roots
4-5 dried red chillies (remove seeds)
Juice and rind from 1 lime
Salad
120g cherry tomatoes each cut in half
½ red onion sliced thinly
1 cucumber diced into small pieces
½ cup fresh herbs each mint and/or basil
Method
Bring sirloin steak to room temperature and pat dry. Mix the marinade for the beef and pour over beef. Set aside for 30 minutes.
Pre-heat skillet or pan over high heat. Cook steak for 4 minutes, then flip over and cook for additional 2 minutes.  Optional - Remove beef from pan, slice and add back to pan. Turn down the heat to low, cover the pan and cook for additional 7-8 minutes for melt in the mouth beef.
Blitz the salad dressing in a food processor.
Pour over 2 tbsp of salad dressing on sliced steak. Set aside in fridge for 30 minutes or preferably overnight. If kept overnight, heat up sliced steak in a pan
Add ingredients for salad to a salad bowl. Add sliced beef and pour in salad dressing. Mix and serve.