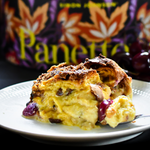 Ingredients
750g Simon Johnson panettone from Hudson Meats
100g pitted cherries sliced
Icing sugar, for sprinkling (optional)
Method
Heat the oven to 170C and grease baking dish with a bit of the butter

Slice panettone and cut each slice into two pieces. Butter slices lightly and arrange in the buttered dish. Butter the tops of the slices slightly.

Whisk eggs, thickened cream milk, vanilla and caster sugar in a bowl and pour over panettone. Cover and let panettone rest for 30 minutes.

Sprinkle brown sugar over the top of panettone slices and place the dish in a roasting pan in the oven. Pour water around the roasting pan(this allows the custard to set)

Bake for 40-45 minutes.

Once slightly cooled down, slice, sprinkle icing sugar and serve with ice cream.

Recipe by Sarah Ahmed : @nourish.glow.repeat