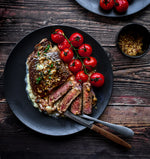 Ingredients
2 Scotch fillets (300g each)
4 tbsp wholegrain mustard
4 sprigs of thyme and 2 sprigs of rosemary
250 g cherry vine tomatoes
½ cauliflower (finely chopped)
2 tbsp Maffra cloth-aged cheddar from Hudsons Meats
Method
Marinate steak for 30 minutes with 1 clove minced garlic, 2 tbsp wholegrain mustard, salt & pepper to taste.



Pre-heat oven to 200C and line a tray with baking paper. Drizzle ½ tbsp olive oil and bake vine tomatoes until slightly blackened for 4-5 minutes.

Meanwhile prepare the cauliflower mash. Saute 1 clove minced garlic in pot with ½ tbsp olive oil over medium heat.

Add chopped cauliflower and 1/4 cup water. Cover the pot and turn down the heat to a low simmer. Cook for 8-10 minutes (if all the water has drained out add a few tbsp of water).

Blend cauliflower in a food processor on high until smooth and creamy. Transfer to the pot and add cheddar, salt and pepper to taste. Set aside.

Pat dry steak with paper towels (ensure the steak is in room temperature).

Heat 1 tbsp of olive oil in a large skillet on high heat. Once the pan is very hot, place the steak in skillet.

Cook for 3 minutes on one side and then flip. After 2 minutes, add butter, garlic, thyme and rosemary on one side of the pan. Once melted spoon the butter over each piece of steak for 2-3 minutes (for medium rare, longer for well done).

Transfer steak to a plate or tray for 10 minutes.

Add butter and 2 cloves of garlic from the skillet to a bowl. Add 2 tbsp wholegrain mustard and mix.

Assemble - spoon cauliflower mash on a plate, place steak on top and drizzle with buttery mustard sauce and serve roasted tomatoes on the side. 
Recipe by Sarah Ahmed : @nourish.glow.repeat