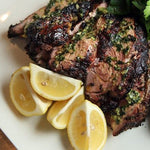 Serves 4-6
Ingredients:
1 lamb shoulder, boned

12 anchovies
Zest of 2 lemons and juice of 1 lemon
1 bunch flat leaf parsley
4 golden eschallots
1/2 bunch thyme
200ml extra virgin olive oil
4 garlic cloves
Black pepper
Method:
Ensure the lamb has been removed from refrigeration and is at room temperature.

Then pre-heat the oven to 160C.
Place all ingredients in a food processor, blend ingredients keeping them coarsely chopped.
Rub the lamb with the marinade and let it rest for 45 minutes, covered with plastic wrap to assist with permeating the flavours.
Cook on a medium heat on the barbecue, basting with the marinade if required. Do not season with salt as the anchovies are the salt component of the dish and these will melt during the cooking process.
Place in oven and cook the shoulder of lamb for approximately 1 hour and 15 minutes.
Remove from the oven, cover with foil and rest for 15 minutes after cooking.