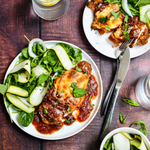 Ingredients
Chicken parmi
2 portions of Hudson's chicken breasts halved horizontally
2 cloves of minced garlic
1/2 lemon (zest lemon separately)
Sauce
300ml Hudson's real tomato sauce
Salad
4 cups spinach and rocket mix
2 small zucchinis (sliced into ribbons using vegetable peeler)
1 white onion thinly sliced
2 tbsp white wine vinegar
Method
Using a meat mallet, beat chicken until flat. Combine minced garlic, ½ tsp salt, dijon mustard and a pinch of pepper. Add to chicken and marinate for 20 -30 minutes.

Season flour with salt and pepper to taste, set aside. In a second dish, season breadcrumbs with lemon zest, half of the parmesan, garlic powder, onion powder, smoked paprika and dried herbs. In another dish, beat egg and add milk along with juice from lemon, set aside.

Using 1 piece of chicken at a time, lightly dust chicken in the flour, then dip in the milk mix, and finally coat in the breadcrumb mixture. Place on a plate and chill for 30 minutes.

Whilst the chicken is in the fridge, prepare the sauce. Add olive oil to a pan on medium low heat and add garlic. Cook for 2  minutes and add tomato sauce with ¼ cup basil. Add chilli flakes. Cook for 4 minutes. Set aside

Preheat oven to 220C and line tray with baking paper

Heat olive oil in a pan on medium heat and shallow fry chicken (3-4 minutes on each side). Drain on a paper towel and transfer to a tray.
Recipe by Sarah Ahmed : @nourish.glow.repeat