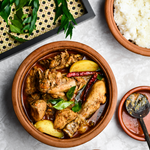 Ingredients
1 Free Range Bannockburn Whole Chicken from Hudson Meats
2 tomatoes chopped finely
4-5 cardamom pods (crushed)
Method
Bring chicken to room temperature. Cut chicken into 10 pieces. Wash chicken thoroughly.
Place chicken into a large bowl. Add tamarind, 2 tsp curry powder, 2 tsp pepper and 1 tsp salt. Mix and set aside to marinate for 30 minutes- 1 hour.
Grind ginger and garlic to form a paste.
Add oil to a deep pan on medium high. Add onions and fry till golden. Add ginger, garlic paste and fry until aromatic. Add cinnamon quill, cloves and curry leaves. After a minute add tomatoes. Cook for 2-3 minutes and add remaining curry powder and chilli powder. Mix well.
Add chicken to the pan. Cook on medium high heat for 10 minutes.
Add potatoes and turn down the heat to low. Cover with a lid and cook for 40-45 minutes.
Add coconut milk and cook for 5 minutes.
Season with ½ tsp salt if required and serve immediately with rice. 
Recipe by Sarah Ahmed : @nourish.glow.repeat