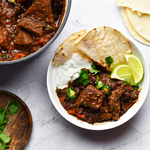 Ingredients
750g diced beef from Hudson Meats
2 cloves Bellingen garlic from Hudson Meats minced
1 jar tomato sauce from Hudson Meats
500ml chicken stock from Hudson Meats
4 tbsp Gran Luchito Salsa Fire Roasted Red Pepper
840g black beans (canned version drained)
Yoghurt and tortillas to serve with
Method
Add olive oil to a deep pan on medium heat. Add onion and garlic. Fry till browned. Add chilli flakes, oregano, paprika and cumin. Fry for a minute.
Add diced beef, season with salt and pepper and mix.
Cook for 3-4 minutes until browned.
Add red pepper, salsa, tomato sauce and black beans. Mix and add stock. Season
Cook on low for 1 hour. Cover and cook for an additional 1 ½ hours.
Serve with tortillas and yoghurt. 
Recipe by Sarah Ahmed : @nourish.glow.repeat