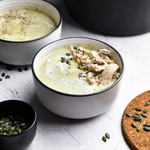 Ingredients
2 portions chicken breast from Hudson Meats
1 clove Bellingen garlic from Hudson Meats sliced
3 tbsp garlic olive oil from Hudson Meats
1.2L chicken stock from Hudson Meats
1 brown onion finely diced
1 head cauliflower cut into florets
100ml coconut milk or cream(optional)
Garlic oil, sunflower seeds, coconut milk/cream for garnish
Salt and pepper to season
Method
Heat 1 tbsp oil in a large deep saucepan. Add chicken and season with 1 tsp salt and 1 tsp pepper. Cook for 5 minutes on medium heat and flip.
Add 100ml chicken stock and turn down the heat to low. Cover and cook for 20 minutes.
Remove chicken from pan and shred using two forks. Pour any liquid from the pan to shredded chicken. Set aside
Add 2tbsp olive oil to the same pan on medium. Add onion, garlic and leeks. Cook until softened.
Add cauliflower, stock and thyme. Stir well. Bring to a boil and then reduce heat to low. Simmer for 20-25 minutes or until the cauliflower is very soft.
Remove thyme. Using a stick blender, blitz until creamy.
Add coconut milk and season.
Serve into bowls and top with shredded chicken, garlic olive oil and coconut milk/cream.
Recipe by Sarah Ahmed : @nourish.glow.repeat