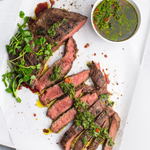 Servings: 4 
Ingredients 
1 portion of skirt steak from Hudson Meats
1 tbsp olive oil 
4 cloves garlic minced
2 sprigs rosemary finely chopped
1 tsp salt
1 tsp black pepper 
Chimichurri 
1 cup finely chopped parsley
1/2 cup finely chopped coriander
2 tbsp finely chopped oregano (optional)
1 clove garlic
1 red chilli seeds removed and chopped
100 ml olive oil
4 tbsp red wine vinegar 
Method
Mix ingredients for marinade and rub steak thoroughly.
Heat a grill pan or bbq on high heat. Spray olive oil.
Cook steak for 3 to 4 mins each side
Transfer steak to a cutting board. Allow steak to rest for 5 minutes before slicing.
Mix ingredients for chimichurri and serve with steak.
Recipe by Sarah Ahmed : @nourish.glow.repeat