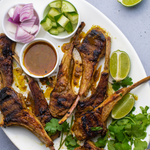 Ingredients 
10 lamb cutlets from Hudson Meats
1 packet of Zest Vindaloo from Hudson Meats
Diced cucumber and red onion to serve with 
Method
Toss lamb cutlets with ½ packet of zest vindaloo and lime. Set aside to marinate for 5 minutes.
Bring remaining zest vindaloo in a pan to simmer. Pour into a dipping bowl and set aside.
Heat bbq on high. Spray with olive oil. Cook lamb cutlets on each side for 3-4 minutes whilst brushing with remaining marinade.
Serve with heated zest vindaloo, red onion and cucumber.
Note : to spice up the vindaloo, add fresh chilli.
Recipe by Sarah Ahmed : @nourish.glow.repeat