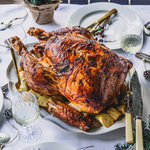 For the best results start the prep 24-48hrs ahead. 18hrs to brine the turkey and another 24hrs to fridge-dry the turkey for the most crispy skin. Any leftover meat can be shredded and frozen then added to soups and pies.
.
Serves 8-10 Prep 24-48hrs Cook 4.5hrs
.
INGREDIENTS
8kg turkey from @hudsonmeats
10l lukewarm water
600g salt
4 tbsp turkey butter from @hudsonmeats
Small bunch rosemary
1 lemon, quartered
1kg kipfler or Austrian Crescent potatoes from @hudsonmeats peeled
¼ cup duck fat, melted
1 jar @peterwatsonfood Cranberry Sauce
.
METHOD
Ask the butcher to truss the turkey. Add water and salt to a large tub or bucket that will fit the turkey and fit in the fridge. Add the turkey and place in the fridge to brine for 18 hrs. Remove the turkey from the brine, and follow the method below or place on a platter or tray breast side up and back in the fridge for 24 hrs for the skin to dry.
Preheat oven to 180C. Place turkey on a large baking tray lined with a drip tray. Using the back of a spoon lift the skin off the breast to make a pocket. Push half the turkey butter into the pocket. Melt the rest and baste the skin. Place rosemary and lemon into the cavity. Roast on the lowest shelf of the oven for 35mins per 1kg – the internal temperature in the thickest part of the breast should reach 70C.
An hour before the end of roasting, toss potatoes with duck fat and add to the roasting tray. Once done, open the oven door and allow the turkey to rest for 20mins before serving.
Transfer to potatoes and turkey to a platter, serve with cranberry sauce and drippings on the side.
.
Recipe and image @wholesomecook