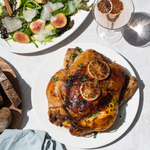 Serves 6
Ingredients
1 x Saskia Beer Chicken
6 x peeled cloves of garlic, chopped in half.
1 x lemon, quartered
1 x bunch of fresh oregano
Olive Oil
Maggie Beer Verjuice
Salt & Pepper
Method
Preheat oven to 180C.
Wash the chicken cavity, and chicken until the water runs clear.
Dry the chicken with paper towels.
Inside the cavity, place the lemon, oregano and garlic cloves.
Drizzle olive oil over the top of the chicken and massage into the skin, salt & pepper.
Place the chicken into the oven.
After 1 hour in the oven, remove the chicken and drizzle verjuice over the top of the chicken.
Return the chicken to the over and roast for a further 45 minutes.
After a total of 1hr 45 minutes of roasting, turn the oven off and pull the oven door ajar, allowing the chicken to rest inside the over (with the oven door ajar) for 15 minutes.
Recipe by Sarah Ahmed : @nourish.glow.repeat