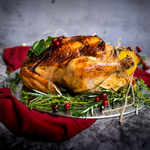 Ingredients
Saskia Beer chicken from Hudson Meats
50g unsalted butter melted
1/4 cup maple syrup
+ 2 tbsp (optional for glaze)
Stuffing
½ package of sage and thyme stuffing from Hudson Meats
Roasted vegetables
1 small bulb of garlic cut into half(unpeeled)
Gravy
Liquid from pan after roasting chicken
½ cup chicken stock from Hudson Meats
Method
Remove the chicken from the fridge 30 minutes prior to cooking, to let it come up to room temperature.

Grate lemon and add zest to a bowl. Cut lemon in half and juice into the same bowl. Do not discard the halves of lemon. .

To create the marinade, add melted butter, olive oil, minced garlic, ¼ cup maple syrup, salt and pepper to the same bowl as lemon juice and zest. Mix well.

Rub chicken all over with melted butter marinade and set aside.

To make the stuffing, microwave sage and thyme stuffing if frozen. Add raisins and almonds to stuffing and mix.

Fill a baking dish with onion, carrots, potatoes and half a bulb of garlic. Season with smoked paprika and salt. Place chicken on top. Stuff cavity with sage and thyme stuffing mix, half a bulb of garlic and ½ of the lemon that was juiced before.  

Tie legs together with butchers twine and tuck wing tips under the body of the chicken. 

Brush chicken lightly with maple syrup. Cover loosely with foil and roast for 1 hour 15 minutes to prevent the skin from burning.

Remove chicken from the oven and discard foil. Baste with juice from the pan and maple syrup and return the chicken to the pan. Roast for further 30 minutes.

Remove chicken from oven and baste with juice from the pan and maple syrup. Return to oven for further 15-20 minutes. Chicken is cooked if juices run clear when pierced in the thickest part.  

  

When the chicken is cooked, take the tray out of the oven and transfer the chicken to a board to rest for 15 minutes or so.

  

To make the gravy, melt butter over medium heat, add flour and stir for a minute. Add the liquid from the pan and once the gravy thickens add remaining stock. Cook for 2-3 minutes and season with salt and pepper.  

Serve chicken with gravy and roasted vegetables. 
Recipe by Sarah Ahmed : @nourish.glow.repeat