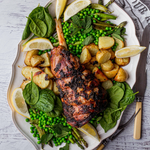 Serves approx 8 People
Prep Time 15 mins
Cook Time 1hr 15 mins
Crusty on the outside and succulent in the middle, a delicious easy roast lamb leg, served with roasted potatoes, asparagus, peas, baby spinach, lemon and mint. Leftover sliced lamb goes well in sandwiches with mayo (such as Good Fat Aioli ) or relish (such as Tracklements Fresh Mint Jelly) the next day.
Ingredients
1.7kg easy carve leg of lamb
2 lemons
1 bunch mint
2 cloves garlic, crushed
3 tbsp extra virgin olive oil
Salt
Pepper
750g baby potatoes
1 tsp sea salt flakes
500g frozen peas
280g sugar snap peas
2 bunches asparagus
60g baby spinach leaves
Method
Preheat oven to 220°C/200°C fan-forced.
Using a sharp knife, pierce lamb all over. Add lamb to a large deep roasting pan.
Zest and juice one lemon. Finely chop half of the mint. Combine zest and juice of lemon, crushed garlic, finely chopped mint and a tablespoon of the oil in a large bowl. Rub the oil mixture over lamb, pressing into cuts. Season well with salt and pepper and roast for 45 minutes.
Cut potatoes in half, place in a bowl and drizzle with a tablespoon of the oil and season well with the salt. Add potatoes to the roasting pan. Cook for a further 30 minutes or until lamb is cooked to your liking and potatoes are golden. Remove pan from oven, cover lamb loosely with foil and allow to rest for 15 minutes.
Meanwhile, cut remaining lemon into wedges. Place frozen peas in a bowl and add boiling water and stand until blanched, drain. In a large frying pan, stir fry asparagus and sugar snap peas in remaining oil until tender.
Transfer asparagus and sugar snap peas to a serving platter, and place lamb in the middle. Add potatoes, peas and spinach leaves. Top with potatoes, sprinkle with the remaining mint leaves and serve with lemon wedges.
Recipe by @wholesomecook