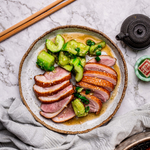 Serves 2
Prep Time 5 mins
Cook Time 15 mins 
Fresh duck breasts smoked to perfection on a barbecue using tea leaves and brown sugar, it couldn't be easier. Served with a smashed garlic cucumber salad and an Asian dressing (such as Birch & Waite or Chang's Crispy noodle dressing). Duck is a red meat so unlike chicken it can be enjoyed slightly pink.
TIPS: line the base of your lidded wok or pot with aluminium foil. This is a must and will save you hours of scrubbing and assist with cleaning the hot caramel off the base, simply lift out the foil base when cooled completely and toss. Make sure you have a powerful exhaust fan running on high if smoking the duck inside! Otherwise tea-smoke the duck on the barbecue outside. For a more cooked-through result, smoke for a further 5 minutes.
Ingredients
2 duck breasts skin on
60g black tea leaves*
5 cups Jasmine rice
½ cup brown sugar
4 star anise, optional
1 teaspoon five spice powder
Salad
2 Lebanese cucumbers
Ponzu or Asian-style dressing (such as Birch & Waite Asian Sesame Soy & Ginger Dressing or Chang's Crispy Noodle Salad Dressing)
1 large clove garlic
Sesame seeds, to serve
Method
Remove the duck breasts from packaging and pat dry with paper towels on both sides.
In a large bowl combine remaining ingredients and mix well.
Line a bottom of a wok or aluminium pot with a double-folded sheet of aluminium foil that will cover most of the base and come up the sides - this is important to easily remove the burnt caramel rice mixture and save your wok and arms from scrubbing.
Place the mixture in the foil base, spreading evenly across the foil.
Place a wire rack over the mixture, but make sure it's not touching the mixture, about 1-2 inches above is great. Place the duck breasts, skin side up, on the wire rack and cover with a lid.
Place the wok over high heat - make sure your exhaust fan is running on HIGH and open a window or use a barbecue with a wok burner / plate. Heat on high, covered, for 5 minutes at which point the mixture should begin to smoke. Reduce the heat to low then continue to smoke the duck for a further 10-15 minutes. Take off the heat and allow to rest for 5 minutes.
Using tongs, carefully remove the duck from the wire rack and place on a cutting board. Slice thinly (you can also allow the breasts to cool completely, store them in an airtight container in the fridge for 3-4 days to use more a  cold cut in salads).
Peel and chop a cucumber, smash it with the side of a knife or a muddling stick and ransfer to a bowl. Drizzle with 2-3 tablespoons of dressing or ponzu sauce and add crushed garlic. Mix well.
 Transfer the duck to serving plates, divide salad between the plates, sprinkle with sesame seeds and serve.
*NOTE: we recommend using longer strands of loose tea leaves, but if you don't have any on hand, you can cut open some teabags and use the finer tea leaves instead.
Recipe by @wholesomecook