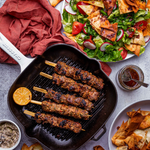 Ingredients

12 lamb skewers
1 baby cos lettuce
1-2 large truss tomatoes
1-2 Lebanese cucumbers
5 radishes
2 spring onions
Fresh parsley

Dressing
3 tablespoons olive oil
2 tablespoons lemon juice
1 teaspoon sumac
1 teaspoon pomegranate molasses
½ teaspoon dried mint
Good pinch salt
2 garlic cloves

Fried Lebanese Bread
1-2 large Lebanese flat breads
2 tablespoons olive oil
Method
Remove skewers from fridge for 10-20 minutes before cooking. Spray a large frying pan or griddle pan with olive oil. Place skewers in the pan set over medium heat. Cook for 4-5 minutes on each side for medium rare. Cook in batches, if needed. Alternatively grill skewers on the BBQ. Transfer to a serving plate.
Meanwhile, whisk together the olive oil, lemon juice, sumac, pomegranate molasses, dried mint, salt. Peel garlic and crush into the dressing. Mix well and set aside.
Slice Lebanese bread into strips or triangles (cornchip size). Place in a bowl and drizzle with olive oil. Mix with your hands to coat the pieces with oil. Transfer to an airfryer basket, set the temperature to 170C and air fry, tossing a couple of times for 4-5 minutes or until golden and crunchy. Transfer to a bowl.
Slice lettuce, cut tomatoes and cucumbers into bite-sized pieces, slice radishes, green onions and chop parsley. Transfer to a large serving bowl or platter. Pour the dressing on top and toss to combine.
Add the fried Lebanese bread to the salad immediately before serving.
*Note: Don't have an airfryer? You can use your oven grill – just keep an eye on the bread so that it doesn't burn or you can fry the bread in a frying pan or skillet. Cook stirring frequently until the pita becomes crispy and golden in colour, about 5 minutes.
Recipe by @wholesomecook