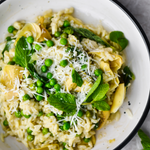 Ingredients
1 packet risotto with green pea, lemon and mint from Hudson Meats
100g artichoke from Hudson Meats
1 tbsp garlic olive oil from Hudson Meats
40g grated pecorino from Hudson Meats
Method
Add risotto from the packet with water and olive oil in a large pan on medium low heat. Mix, cover and bring to a boil.

Reduce to a simmer, add green peas, stock and cover for further 15 minutes. Remove from heat and stir well.

Add lemon juice, artichoke, mint and pecorino. Stir and serve.
Garnish each serving with a wedge of lemon, fresh mint and grated pecorino. 
Recipe by Sarah Ahmed : @nourish.glow.repeat