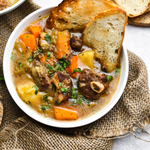 Ingredients
1kg lamb chump chops from Hudson Meats
2 cloves Bellingen garlic from Hudson Meats (minced)
2 carrots (cut into ½ inch pieces)
500g potatoes (cut into 4 each)
Chopped parsley for garnish
Method
Bring lamb to room temperature. Pat dry with paper towels. Cut lamb chump chops into chunks

Season with 1 tsp salt and pepper.

Heat olive oil in a large heavy pot over medium high heat. Add lamb, fat side down and cook until well browned on all sides.
Remove lamb from pot and set aside. Add garlic and onions to the pan. Once the onions are browned, add leeks and cook till leeks have slightly softened.
Add the lamb back into the pan. Add flour and mix until flour is well combined with the lamb.
Pour in stock, beer and water. Place thyme and bay leaves in the pan. Cover and cook on medium low for 1 hour and 30 minutes.
Add bouillon cube, brown sugar and black pepper. Stir and add potatoes and carrots. Cover and cook for further 40 minutes.
Garnish with chopped parsley and serve immediately with toasted sourdough. 
Recipe by Sarah Ahmed : @nourish.glow.repeat