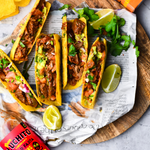 Ingredients
Beef Tacos
500g diced rump steak from Hudson Meats
1 jar Gran Luchito Fajita sauce from Hudson Meats
1 packet of Gran Luchito hard shell tacos from Hudson Meats
1 tbsp garlic olive oil from Hudson Meats
2 small bell peppers thinly sliced (red, green or yellow)
1 jalapeno sliced (seeds removed)
1 tbsp garlic olive oil from Hudson Meats
Guacamole
1/4 Jalapeno finely diced (seeds removed)
Pico De Gallo
1 Jalapeno finely diced (seeds removed)
Method
Bring beef to room temperature and pat dry with paper towels.
Season beef with salt, pepper, cumin, smoked paprika and ground cayenne. Set aside for 30 minutes.
Add olive oil to a pan on medium high heat. Add seasoned beef and cook until browned on all sides.
Remove beef from the pan. Add onion and jalapeno on medium heat. Once the onions are translucent add peppers. Cook for 5 minutes until peppers are slightly charred.
Add beef back into the pan. Pour in Gran Luchito Fajita sauce. Add brown sugar. Stir to combine all ingredients and bring to a simmer.
Turn down the heat to low and cover with a lid. Cook for 30 minutes.
Squeeze lime over beef and garnish with coriander.
Pre-heat oven to 180C. Place hard shell tacos on a baking sheet and bake for 3 minutes.
Mix ingredients for guacamole and pico de gallo. Assemble tacos with beef, guacamole and pico de gallo. Enjoy! 
Recipe by Sarah Ahmed : @nourish.glow.repeat