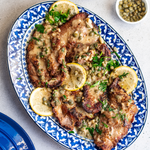 8 portions of veal schnitzels from Hudson Meats
150ml chicken stock from Hudson Meats
1 cup flour seasoned with 1 tsp each salt, garlic powder and pepper
Method
Pat dry veal and season with salt and pepper.
Add oil to a large frying pan.
Dredge both sides of veal in flour mixture and fry in pan in pan in batches for 2 minutes on each side. Shallow fry in batches and transfer to a plate.
Add garlic to remaining oil. Once fragrant add wine, lemon juice, stock and cappers.
Bring to a boil and simmer. Once reduced, Stir in butter and parsley. Season with pepper.
Serve veal with sauce and lemon slices.