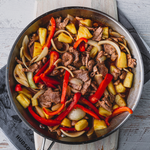 SERVES 4     
PREP: 15 mins
COOK: 15 mins
INGREDIENTS
1 pork tenderloin
½ tbsp bicarb soda
½ cup water
1 medium onion
½ gold topless pineapple
1 red or green capsicum
¼ cup olive or peanut oil
SAUCE
1 cup Ketchup
1 tbsp ketjap manis
2 tbsp soy sauce
3 tbsp apple cider vinegar
1 tsp grated ginger
1 cup water
TO SERVE
Steamed rice
METHOD
Slice pork tenderloin into 5mm slices. Place in a large ceramic bowl and sprinkle with bicarb soda. Drizzle with water and mix well. Set aside for 5 minutes. Then rinse under cold running water, roughly pat dry with paper towel and leave to come to room temperature.


Meanwhile peel and slice onion, peel and cut pineapple into chunks, core and slice capsicum.


Heat 1 tablespoon oil in a large pan or wok set over medium high heat. Add onion and stir-fry for 2-3 minutes. Transfer to a bowl and return pan to heat. Adding a tablespoon oil, cook pineapple and capsicum in batches until lightly caramelised and soft, transferring each batch to the bowl with onion.


Return pan to heat, add oil and cook pork in batches, for 1-2 minutes on each side – transferring to the bowl after each batch. Be gentle when tossing the pork as it will be fall-apart tender.


Mix all sauce ingredients in a jug. Clean the pan if you need to, otherwise add sauce to the pan set over medium heat and bring to a gentle simmer. Return all cooked ingredients to the pan, stir gently to coat and cook for a further 2 minutes.
Serve sweet and sour pork with steamed rice.
Recipe and image @wholesomecook