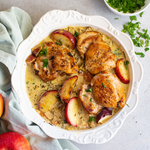 6 chicken thighs from Hudson Meats
250ml chicken stock from Hudson Meats
2 tbsp Dijon mustard from Hudson Meats
2 apples quartered and cored
Method
Bring chicken to room temperature, pat dry and season with salt and pepper.

Pre-heat oven to 180C.
Brown apples in an oven proof casserole dish. Transfer to apples plate and add olive oil. Brown chicken in batches. Set aside.
Add garlic, leeks, carrot and celery to the casserole dish. Once softened add mustard, stock and apple cider along with thyme.
Return chicken and apples to casserole dish, stir in tarragon and cover with lid.
Transfer to oven for 30 minutes. Add heavy cream and transfer back to oven for additional 30 minutes. Squeeze fresh lemon and add more salt or pepper to taste if required.