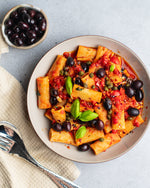 Servings 4
Ingredients
400g Tortiglioni
500g canned cherry tomatoes
1 cup stock
4 tbsp olive oil
150g black olives pitted
4 cloves sliced garlic
6 anchovy fillets finely chopped
2 tbsp capers
1⁄2 tsp chilli flakes
1 tsp dried oregano
1 tsp salt and pepper
Finely chopped basil

Method
Boil pasta according to the instructions on the packet
Heat olive oil in a pan over medium heat and add garlic. Once fragrant add in olives, anchovies, capers and chilli flakes.
Cook for a minute and then add in canned tomato and stock. Reduce heat and bring to a simmer. Season with salt, pepper and oregano. Cook for 10 minutes and add fresh basil.
Add pasta to pan and toss to combine.