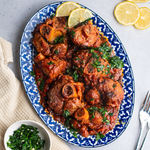 Servings: 4-6
Ingredients
8 portions of osso bucco from Hudson Meats
500ml passata from Hudson Meats
250ml beef stock
1 cup of white wine
2 tbsp olive oil
100g sundried tomatoes
6 cloves minced garlic
1 red onion finely diced
1 large carrot finely diced
3- 4 sprigs of rosemary chopped
1 tsp salt and pepper
Gremolata
1 cup parsley
1 clove garlic
Juice from 1 lemon
2-3 tbsp olive oil
Method
1. Season meat with salt and pepper. Add to a large pan on medium high heat and
brown in batches.
2. Remove meat from the pan
3. Add garlic, onion and carrots. Sauté until lightly browned.
4. Pour in wine. After a minute add in passata, stock, sun dried tomatoes, and
rosemary. Season with salt and pepper. Mix through and add meat back into the pan.
5. Cover with a lid and cook on low heat for 1 1/2 hours. Add more stock in intervals if
required.
6. Blend ingredients for gremolata. Serve with osso bucco over mash or polenta.