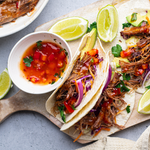 6 Servings
Ingredients
1kg beef brisket from Hudson Meats
250ml passata from Hudson Meats
Tacos, shredded cabbage and carrots, red onion, sliced avocado, salsa and sour cream to serve with.
Method
 

Preheat oven to 170C.

 

Combine all seasoning ingredients. Place brisket in roasting pan and rub seasoning over brisket until well coated.

 

Mix beef stock, lime juice, honey, ground cumin and smoked paprika and pour over beef brisket.

 

Cover the pan with foil and place in the oven. Bake for 3 hours basting brisket with sauce from the pan every hour. If the sauce is too thick, pour in stock in intervals.

 

Remove beef from pan and shred with two forks. Return brisket back to gravy.

 

Assemble tacos with shredded beef, carrots, cabbage, red onion, avocado and other sauces.