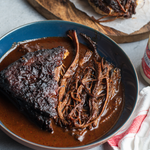 Ingredients
Brisket Rub
3 tablespoons smoked paprika
2 tablespoons ground black pepper
2 tablespoons sea salt
1 tablespoon brown sugar
1 tablespoon chilli powder
1 teaspoon ground cumin
700gm beef brisket
Barbeque Sauce
3/4 cup smoky BBQ sauce (Lillies Q)
1/4 cup water
1 tablespoon Worcestershire sauce
1/2 onion, sliced

Method
Mix brisket rub all together in a bowl, ensuring you rub the beef brisket all over evenly. Place brisket in a large dish, cover and refrigerate for 1 hour to overnight. Leaving it overnight will intensify flavour.
Mix smoky barbeque sauce, Worcestershire sauce, water, together in a bowl, once combined pour into the bottom of your slow cooker.
Place brisket into the sauce mixture.
Don't forget to add onions on top of brisket.
Slow cooking is the key to a delicious tender brisket. Cook on low for 6 hours until brisket is very tender.
At this point the brisket will be ready, rest for 10-15 minutes. The fun part starts... shred away to your desire and serve with your smoky delicious BBQ sauce.