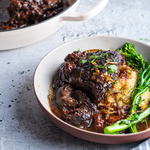 Serves 6
Ingredients
6 x grass-fed beef Cheeks, trimmed
750ml full bodied red wine
1 garlic , cracked
1 small carrot
1 onion
1 stick of Celery
1/2 Leek
Sprig of Thyme
2 Bay Leaves

Garnish
1 bunch pearl onions
3 medium potatoes for turning
2 carrots for turning
Small ligurian olives
Chopped curly parsley
Hudson ver jus to finish sauce
Sea salt and pepper to taste

1lt of veal stock
150mls extra virgin olive oil
Method
Place the trimmed Ox Cheeks into a container with the peeled and diced vegetables, herbs and red wine. Toss together and cover with glad wrap and leave for 24 hours in the fridge.
Remove the cheeks from the marinade and seal them in the oil till they take on a good colour. Place the cheeks aside on a tray.
Strain the vegetables and herbs from the marinade and sweat in the oil until golden, deglaze the pan with the marinade liquid and reduce down to 100mls.
Add the cheeks and cover with the veal stock, cover with grease-proof paper to seal the surface. Bring slowly to the boil and cook in the oven on 120° or on the stove-top. Remember, the Daube must only tick over, not boil.
After 2-3 hours remove one cheek and test that it is tender and can be torn apart. When cooked, remove the cheeks and put to the side.
Strain the stock through filter paper and back over the cheeks. If the sauce needs more flavour or reducing, adjust accordingly now, and then pour it over the cheeks.
Turn or dice your carrots and potatoes, blanch until just cooked and refresh to stop them from cooking further.
Peel and blanch your pearl onions and refresh.
Strain the olives.
To Serve
On the stove, slowly heat the ox cheeks in the sauce, in a covered saucepan for 20 minutes.
Add your vegetables and olives check the seasoning and finish with the chopped parsley.
Serve with crusty bread and a good glass of wine.