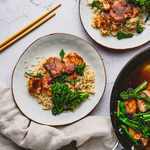 SERVES 4
PREP: 10 mins
COOK: 15 mins
INGREDIENTS
1 pork tenderloin
½ tbsp bicarb soda
½ cup water
1 bunch broccolini
3 tbsp olive or peanut oil
SAUCE
1 cup stock
1 cup hoisin sauce
TO SERVE
Steamed or garlic fried rice
METHOD
Slice pork tenderloin into 5mm slices. Place in a large ceramic bowl and sprinkle with bicarb soda. Drizzle with water and mix well. Set aside for 5 minutes. Then rinse under cold running water, roughly pat dry with paper towel and leave to come to room temperature.


Meanwhile, cut broccolini into 4cm long pieces.


Heat 1 tablespoon oil in a large pan or wok set over medium high heat. Add broccolini and stir-fry for 2-3 minutes. Transfer to a bowl and return pan to heat. Return pan to heat, adding a tablespoon of oil and cook pork in batches, for 1-2 minutes on each side – transfer to another bowl after each batch. Be gentle when tossing the pork as it will be fall-apart tender.


Clean the pan if you need to, otherwise add stock and hoisin sauce to the pan set over medium heat and bring to a gentle simmer. Return pork to the pan, stir gently to coat and cook for a further 2-3 minutes.


Top with stir-fried broccolini and serve with steamed or garlic fried rice.
Recipe and image @wholesomecook