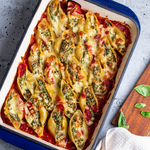 Ingredients
350g beef mince from Hudson Meats
500ml passata from Hudson Meats
1/2 brown onion finely chopped
Method
Preheat oven to 180C. 

Add 1 tbsp olive oil to a pan on medium heat. Add onions and 2 cloves garlic. Once fried and fragrant, add minced beef. Cook until browned, breaking up clumps of meat. Add meat mixture to a large mixing bowl

Microwave frozen spinach for 45 seconds. Drain spinach and remove excess water. Add to mixing bowl. 

Once cooled, add ricotta and lemon juice to mixing bowl. Combine well with mince and spinach. 

Cook pasta shells in a large pot of boiling water until al dente and drain.

Add passata, ½ of the olive oil, remaining garlic, salt and paprika to a large baking dish. Mix well. 

Stuff each pasta shell with 2 tsp of mince and ricotta mixture. Place shells in the baking dish over passata sauce.

Top with mozzarella and remaining olive oil. Bake for 15 minutes.