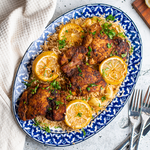 Ingredients
8 chicken thighs from Hudson Meats 
100ml passata from Hudson Meats
1 1/2 cups uncooked white rice
Juice and zest from 1 lemon
Lemon slices and coriander for garnish 
Method
Mix paprika, cumin, garlic, lemon juice, lemon zest, salt and 4 tbsp olive oil in a bowl.
Coat chicken with half of the mix.
Pre-heat oven to 180C.
Heat 1 tbsp olive oil in an oven safe casserole dish on medium heat.
Brown chicken on each side, transfer to a plate.
Add rice, chicken broth, passata and remaining seasoning mix. Return chicken to dish.  Cover with foil or lid.
Transfer to oven, bake for 40 minutes. Garnish with fresh coriander.