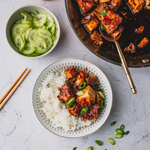 SERVES 4-6
PREP: 20 mins
COOK: 2 hrs 15 mins
INGREDIENTS
1 kg pork belly
2 cups water
1 cup ginger ale
2 tsp olive oil
2 tsp sea salt flakes
GARLIC CUCUMBER SALAD
2 Lebanese cucumbers
2 tsp soy sauce
2 tsp toasted sesame oil
2 small garlic cloves, crushed
GLAZE SAUCE
2 tbsp olive oil
1 jar Tracklements Mango & Chilli Chutney
2 tbsp dark soy sauce
½ cup water
TO SERVE
Steamed rice
Sliced spring onion
METHOD
Ask the team to score your pork belly rind. Otherwise, using a sharp knife, score the pork rind at 1cm intervals in a diamond pattern. Place pork on wire rack, rind side up, over the sink. Pour boiling water carefully over pork rind. Pat dry with paper towel. Set aside to cool for 10 minutes.


Preheat oven to 180°C. Line a roasting tin with baking paper. Pour water, ginger ale into the base of the tin. Place pork belly into the tin, rind side up. Rub the rind with olive oil and salt.


Roast pork belly for 1.5-2 hours or until pork is tender. Place on the bottom rack under a hot grill, and grill for 3-5 minutes, until the skin is crisp and golden. Remove from oven and allow to rest for 5-10 minutes before dicing into bite-sized pieces.


Meanwhile, peel and finely slice cucumbers and place in a bowl. Mix all dressing ingredients together and pour over the salad. Mix well and place in the fridge.


Place all glaze ingredients in a large frying pan and heat on medium heat until simmering.  Add pork belly pieces and simmer, uncovered, for 5 minutes stirring to coat the pork in the sauce.


Serve with steamed rice, sprinkle with sliced spring onion and cucumber salad.
Recipe and image @wholesomecook