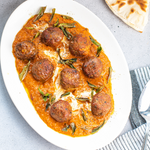 Ingredients 
5 skewers of lamb kofta from Hudson Meats
200g passata from Hudson Meats
1 red onion finely sliced
2 small green chillies cut lengthwise 
Fried curry leaves for garnish 
Method
Preheat oven to 180C. Line a tray with baking paper. Remove kofta from skewers and place on baking sheet. Bake for 10 minutes.
Add onion, ginger, garlic, curry powder, cumin and chilli powder to a food processor and blitz.
Add olive to a pan on medium heat and add curry paste. Add curry leaves, green chilli and fry until fragrant.
Add passata. ½ cup water and lower the heat to bring to a boil. After 6-8 minutes add Greek yoghurt.
Serve curry sauce to a dish and arrange kofta. Garnish with fried curry leaves and serve with flatbread.