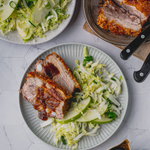 SERVES 4-6  
PREP:  20 mins
COOK: 2 hrs
INGREDIENTS
1kg Pork Belly
¼ cup light soy sauce
¼ cup hoi sin sauce
¼ cup dry sherry or Chinese cooking wine
¼ cup brown sugar
2 tsp garlic powder
2 tsp ginger powder
2 tsp Chinese five spice
2 tsp olive oil
2 tsp sea salt flakes
SLAW
1 baby wombok (or half a full size wombok)
1 Granny Smith apple
1 sprig spring onion
DRESSING
3 tbsp olive oil
3 tbsp malt vinegar
2 tsp brown sugar
Pinch salt
Pinch ground black pepper
Method
Ask the team to score your pork belly rind. Otherwise, using a sharp knife, score the pork rind at 1cm intervals in a diamond pattern. Place pork on wire rack, rind side up, over the sink. Pour boiling water carefully over pork rind. Pat dry with paper towel. Set aside to cool for 10 minutes.


Meanwhile, combine soy sauce, hoi sin, wine, brown sugar, garlic powder and ginger powder in a large glass container big enough to hold the pork belly flat. Mix well. Place pork into marinade, skin side up and refrigerate, uncovered, for at least 4 hours or overnight. This will help the skin to dry out and create a crispy crackling.


Remove pork belly from the fridge and allow to come to room temperature, about 10 minutes. Line a roasting tin with baking paper. Place pork belly into a roasting pan. Reserve the marinade.


Preheat oven to 180°C. Roast pork belly for 1.5 hours or until pork is tender.


Meanwhile, finely slice wombok. Core and slice apple into thin wedges. Finely slice spring onion. Combine in a large bowl. Mix all dressing ingredients together and pour over the salad. Mix well and place in the fridge.


Remove pork belly from the oven, taking care as the tin and pork will be hot. Rub the skin with oil and sprinkle with the salt, rub both into the skin. Place on the bottom rack under a hot grill, and grill for 3-5 minutes, until the skin is crisp and golden. Remove from oven and allow to rest for 5 minutes before slicing.


Meanwhile, combine reserved marinade and ¼ cup water in a small saucepan. Bring to the boil. Simmer, uncovered for 5 minutes. Remove from heat and transfer to a serving jug.


Serve pork belly on a platter, slice table side, along with the marinade sauce and slaw.
Recipe and image @wholesomecook