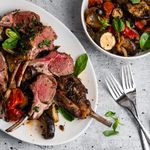 Servings: 4
Ingredients
1 lamb rack from Hudson Meats
4 tbsp garlic olive oil from Hudson Meats
2 tbsp finely chopped fresh basil + handful
2 tbsp finely chopped fresh parsley
2 tbsp finely chopped fresh rosemary
2 tbsp finely chopped fresh thyme
1 red or brown onion cut into quarters
1 eggplant sliced and each slice cut into half
1 red bell pepper cut into large cubes
250g vine ripened cherry tomatoes
2 tbsp tomato paste (optional)
1 tsp crushed dried chili
 Method
 

Add garlic, 3 tbsp olive oil, chopped basil, parsley, rosemary, thyme, 1 tsp salt and pepper to a bowl or a small food processor and mix well.
Bring lamb to room temperature. Rub lamb rack all over with marinade and reserve ½ tbsp. Let lamb marinade for over 1 hour.
Pre-heat oven to 220C.
Add all vegetables to a large roasting pan. Add 1 tbsp olive oil, 1 tsp salt, tomato paste, balsamic vinegar and chilli flakes. Toss to combine with a handful of fresh basil.
Place lamb rack on top of vegetables.
Roast lamb and vegetables for 15 minutes. Brush lamb with reserved marinade and lower the heat to 180C. (Cover loosely with aluminium foil if the ends are roasted). Roast for additional 20 minutes. Remove lamb from oven and let it rest.
Roast the vegetables uncovered for further 10 minutes if required.
Slice into chops and serve with ratatouille.