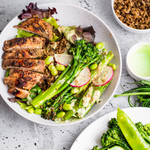 Ingredients
Chicken marinade
2 tbsp finely chopped dill
Vegetables & salad
Green Dressing
2 tablespoons tarragon finely chopped
2 tbsp basil finely chopped
3-4 tbsp parsley leaves finely chopped
3 tablespoons finely chopped chives
Method
Bring chicken breast to room temperature. Cut each into half horizontally to make two steaks per chicken breast.
Place in a large bowl. Add rest of the ingredients to the bowl to make the marinade. Mix well and set aside for 2 hours or more.
For the brown rice, add all ingredients in the packet to a non- stick deep pan. Add 600ml boiling water and close with a lid. Cook for 35 minutes.
Add all ingredients for the salad dressing into a food processor and blend until well combined. Add 1 tbsp water if required.
For the vegetables, fill a non stick fry pan with 1 to 2 inches of water and bring to a boil; add broccolini and snow peas and cook for 1-2 minutes. Drain vegetables and discard water
Heat the same pan on medium high heat, add 1 tbsp of oil. Add broccolini, snow peas and edamame. Cook for 3 minutes. Season with salt and pepper. Remove vegetables and set aside.
Using the same pan on medium high heat and spray with olive oil. Cook chicken breast until browned on all sides. Cook for 5-6 minutes on high heat and lower the heat for the last 2-3 minutes.
Serve rice with salad leaves and top with green vegetables and radish. Place sliced chicken breast over rice and drizzle with green dressing.