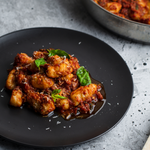 Servings: 4-6
Gnocchi
1 box of Queen May potatoes from Hudson Meats
300g all purpose flour + 50g to dust
Tomato and Basil sauce
2 jars Peter Watson's pasta sauce from Hudson Meats
Pecorino from Hudson Meats
6-8 cloves garlic finely chopped
2 tsp crushed dried chilli
Method
Peel and wash potatoes thoroughly. Cut into quarters and place potatoes to a large pot of boiling water. Cook for 25 minutes until tender and soft (use a fork to pierce to test). Drain potatoes and set aside to cool.
Place potatoes in a bowl and mash until smooth. Mix in salt and pepper. Make a well in the middle and crack an egg. Mix until combined.
Add half of the flour to a clean surface and place potato dough onto flour. Knead the dough and add remaining flour. Knead until dough is no longer sticky and has a solid texture. Add more flour if required.
Slice the dough into 2 sections. For each section, slice into 4 separate parts.
Roll out each part into a long rope using flour to dust . Slice rope into ½ inch squares and set aside on a floured surface. 
Use your thumb to roll each square over a floured fork to make a decorative shape.
Bring a saucepan of water to boil and add gnocchi in batches. Add gnocchi and stir gently to prevent them from sticking. Boil for 3-4 minutes until the gnocchi floats to the surface. Use a slotted spoon to drain and transfer to a bowl.
For the sauce, heat olive oil in a pan. Add garlic and saute until fragrant. Pour in pasta sauce, add chilli and bring to a simmer. Toss fresh basil and stir. Add gnocchi and mix gently.
Serve with more basil and freshly grated pecorino.
*Note, the servings can be halved by boiling half of the gnocchi and storing the rest of the uncooked gnocchi in sealable plastic bags in the freezer for up to 1 month.