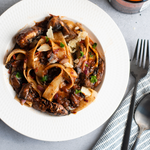 Servings: 4
Ingredients
300g pappardelle pasta from Hudson Meats
150ml real tomato sauce from Hudson Meats
250g portobello mushrooms sliced
Method
Add olive to a pan and saute the garlic and shallots. Add mushrooms and cook until slightly browned. Add wine and bring to simmer. Add tomato sauce, balsamic vinegar, thyme, salt and pepper.
Simmer for 10-15 minutes.
Boil pasta according to instructions. Add pasta to the sauce and stir gently.
Serve and top with fresh basil and parmesan.

Recipe by Sarah Ahmed : @nourish.glow.repeat