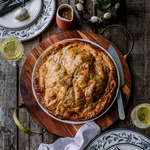 What makes the Pithivier special, aside from the ease of preparation – do not be discouraged by the slightly longer and more descriptive method, is the fact that the filling is sandwiched in between two sheets of flaky and buttery puff pastry.
It's a pie made without a pie tin, with double the deliciousness of the crust. For a hint of flavour and greenery we added a good measure of garlic spinach, and used Gourmet Granny's Beef Stroganoff mix to flavour the filling and gravy.  Careme Spelt Butter Puff Pastry sheets proved to be the perfect match for this rustic farmhouse recipe, but you could use regular Careme Butter Puff Pastry as it is just as exceptional. 
Serves 4-6
INGREDIENTS
1 large brown onion
250g small Swiss brown mushrooms
8 chicken thighs
2 packets Careme Spelt Butter Puff or Careme Butter Puff pastry
5 tsbp olive oil
200g baby spinach leaves
3 garlic cloves
1 packet Gourmet Granny's Beef Stroganoff mix
1 egg
¼ cup water
METHOD
Preheat oven to 200C.
Peel and finely dice onion. Trim stalks off mushrooms and dice them finely, cut mushroom caps into quarters. Chop chicken thighs into bite-sized pieces.
Remove puff pastry from the freezer and leave at room temperature for 15 minutes to thaw out. It should be soft enough to unroll, but not sticky in which case pop it back in the freezer, flat for 5 minutes.
To make the filling, heat 1 tablespoon oil in a large frying pan set over medium low heat and sauté the onion until translucent and gently caramelised. Transfer to a large bowl. Return pan to heat and add 1 tablespoon oil. Add mushrooms, and stir fry for 2 minutes until lightly browned. Transfer to the bowl with onion. Return pan to heat, increase heat to medium-high, add 1 tablespoon oil and cook chicken, in batches until cooked through on the outside, but not browned. Transfer to the bowl.
Heat remaining oil in a small saucepan. Add spinach and cook, stirring, until wilted, about 1 minute. Peel and crush garlic into the spinach, stir and add to the bowl with the ingredients.
Set a sieve over another bowl. Pour the filling contents in and press down to squeeze out most of the juices, reserve for the gravy. Pour the juices into a small saucepan and add half a packet of Stroganoff mix. Return the filling to the other bowl. Sprinkle with half of the Stroganoff mix and stir well. Set aside.
Cut two circles out of the puff pastry. Place one on a baking sheet lined with baking paper. Transfer the filling onto the pastry, making a mound. Leave a 2cm edge. Cover with the other pastry circle. Using a fork press the pastry around the edges to seal. Using a knife, score pastry gently and cut a small hole in the top to allow steam to escape. Brush all over with a whisked egg. Bake for 25 minutes until the pastry is golden.
Meanwhile, pour the reserved juices into a small saucepan, add water and remaining Stroganoff mix. Whisk over medium heat for the sauce to come to a simmer and thicken.
Remove pithivier from oven, transfer to a serving dish and leave for 5 minutes to rest. Serve with gravy on the side.