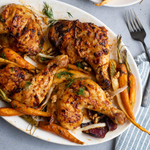 Servings: 4
Ingredients
2 bunches of Dutch carrots, cleaned and leaves trimmed
2 parsnips quartered lengthwise
1 red onion cut into thick slices
Juice from 1 lemon and lemon zest
100 ml chicken stock (optional)
Method
Pre-heat oven to 180C fan forced.
Pat chicken dry with a paper towel. Score chicken in the thickest parts and place in a bowl. Add harissa paste, balsamic vinegar, olive oil, lemon, lemon rind and 8 cloves minced garlic over chicken. Mix thoroughly to coat chicken. Set aside for 30 minutes (optional).
Arrange carrots, parsnips and onion in a large deep roasting tray. Add olive oil, salt, pepper and 2 cloves minced garlic. Toss to combine.
Make space in the roasting tray and place marinated chicken skin side up.

Bake for 30 minutes. Add stock. Bake for further 20 minutes

Garnish with crushed walnuts/pine nuts, fresh dill, feta and fennel ribbons.
*Notes – if harissa paste does not include salt please add 1 tsp salt to chicken marinade. 
Recipe by Sarah Ahmed : @nourish.glow.repeat