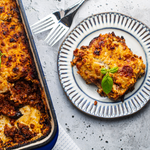 Ingredients
1kg minced lamb from Hudson Meats
1 jar goat cheese from Hudson Meats
800g cherry tomatoes (tin)
3 large eggplants sliced (1cm thick slices)
1 red capsicum cut in half
2 red onions finely diced
4 tbsp pecorino from Hudson Meats
Method
Sprinkle eggplant with salt and stand for 30 minutes. Preheat oven to 180 degrees. Dry eggplant on paper towel and brush with olive oil. Bake eggplant and capsicum for 20 minutes until softened. Repeat in batches if required.
Heat olive oil in a large pan. Saute onion and garlic until fragrant.
Add minced lamb, break it up and fry until browned.
Add smoked paprika and chilli powder.
Add wine and cook for a minute
Shred baked capsicum and add to the pan.
Add tomatoes and rosemary. Stir well and bring to a simmer. Cook for 15 minutes. Stir in fresh basil and set aside.
Pre-heat oven to 180C.
For the béchamel sauce- add butter to a pan on medium heat. Add flour and mix properly. Slowly pour in milk whilst stirring. Continue to whisk for 4-5 minutes. Add salt, pepper and nutmeg. Once cooled, whisk in egg yolk and pecorino.
Layer half of the eggplant on the bottom of a casserole dish. Then top with meat sauce. Repeat with remaining eggplant and sauce. Pour over bechamel sauce. Toss crushed goats cheese all over moussaka.
Bake for 30 minutes.