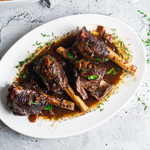 Serves 3-4
Ingredients
6 lamb shanks
3 carrots - diced
3 sticks of celery – diced
1 large brown onion - diced
500ml red wine
1 litre hudson meats veal glace/stock
3 tbls olive oil
6 sprigs of thyme
2 Bay leaf
Pepper
Salt
Method
Heat half the olive oil in a large pot and brown the lamb shanks. Remove shanks from pot and set aside.
Add the remaining olive oil to the pot and lightly sauté the carrot, onion & celery.
Add the red wine and lightly simmer for approx. 2 mins. Add the veal glace/stock and place the lamb shanks back in the pot. Add the thyme, bay leaf, salt and pepper. Place lid on top of pot and put in to a pre-heated oven of 120C. Allow 3 hours cooking time on a low heat.
Serve with mashed potato and green beans.