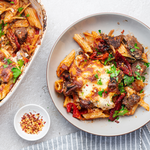 Ingredients
400g penne pasta from Hudson Meats
2 portions of braised beef cheeks (recipe for braised beef by Hudson Meats)
400g cherry tomatoes (tin)
1 jar Hudson Meats passata
2 tbsp olive oil from Hudson Meats
2 tsp finely chopped rosemary
100g grated pecorino from Hudson Meats
Method
Shred beef cheeks or cut into bite sized pieces and set aside

In a large sauce over medium heat, heat oil and saute onion.
Add garlic, zucchini, dried chilli and shredded beef.
Add wine and cook for a minute. Add beef stock, canned cherry tomatoes, passata, sundried tomatoes, rosemary and oregano.
Season with salt and pepper. Reduce heat to low and simmer for 15  minutes or longer.
Pre-heat oven to 180C
Cook pasta according to package instructions, drain and add to the simmered  sauce. Stir well to combine along with fresh basil. Transfer to a casserole dish and top with pecorino and mozzarella.
Bake for 15 minutes.